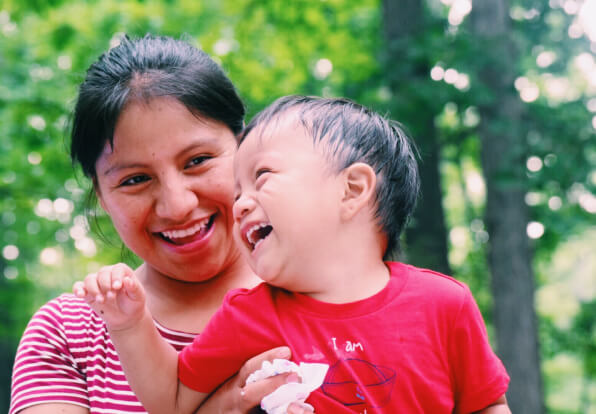 Understanding Family Court
Every year, hundreds of thousands of parents and caregivers turn to New York Family Court to handle issues integral to the well-being of their children and families, including child support, custody and visitation, paternity/parentage, guardianship, and domestic violence.

What are the hurdles litigants face in accessing justice?
Lack of legal representation—combined with a complex, overburdened, and under-resourced system—can put justice out of reach.
Language barriers
Our Solution:
Multilingual services and resources
Our Helpline team is bilingual in both English and Spanish. We also work with translator services available in 78 different languages. Our Legal Resource Guides are available in 9 languages.
Can't afford to hire attorney
Our Solution:
Free legal consultations and guidance
Our attorneys provide in-depth advice and support in one-on-one legal consultations by phone or video.
Traveling to courthouse, finding childcare, missing work
Our Solution:
Remote legal services and better preparation
Virtual consultations, Helpline, and legal technology help litigants get information and support, wherever and whenever is convenient — during lunch, in the car, or from home. Virtual services also increase accessibility for people who live in remote areas or are homebound or disabled.
Confusing court forms
Our Solution:
Accessible, user-friendly online tools
Our Family Law Navigator and guided court forms provide step-by-step assistance and direction. Family Legal Care attorneys are also available to answer questions.
Long wait times and delays
Our Solution:
Case preparation and advocacy
When litigants are well-prepared and their documents properly filed, cases can move more quickly. At the city and state levels, we represent and amplify the needs of our clients by participating on committees and testifying at hearings — working for policy change and court reform.
Only 5-10 minutes to present a case to a judge
Our Solution:
Skills to effectively self-represent
Family Legal Care attorneys help litigants develop the skills to successfully self-advocate through strategy, advice, and coaching.
Systemic biases in the court system
Our Solution:
Advocacy and reform
We advocate for court reform and amplify the voices and experiences of pro se litigants who are disproportionately low income and people of color.
600,000
The number of cases filed in NYS Family Court in an average year.
80%
of litigants come to Family Court unrepresented because they don't qualify for a court-appointed attorney or they can't afford to hire one on their own.
10 mins
may be all a judge has to reach a decision that can impact an entire childhood.
The Justice Gap
Despite the higher volume of cases in Family Court compared to other courts in the New York State Unified Court System, Family Court has less funding, judges, staff, and modern technology. This systemic lack of resources causes a backlog of cases and, even upon being heard, parents and caregivers are sometimes given no more than 10 minutes in front of a judge.
Who Comes to Family Court
The majority of litigants appearing in Family Court are Black and Hispanic/Latinx parents and caregivers from low-income communities. Because most litigants in Family Court are not eligible for court-appointed representation, they face extraordinary barriers to navigating the system and finding justice. And thus, the justice gap in NYS Family Court is one of many manifestations of racial and economic inequality.